About Us
A big welcome to the website of our small company Tud Fish: snorkeling fishing and beach BBQ. We are located in Santa Maria, Island of Sal, Cabo Verde. Below you can read some more about us.
More information on the trips we offer you will find in the Tud Fish Experience section. As well you can check our Prices or first see some pictures in the Gallery below to get in the mood. Information on bookings and contact you can find here. When you are interested you can find some of our 'social' friends and partners on the island in the section Links.
Hope to see you soon!
Stephen & Else
Tud Fish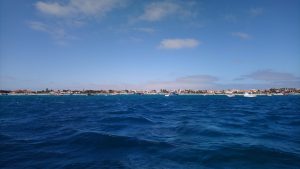 Snorkeling, Fishing and beach BBQ
On holiday in Santa Maria, Sal, Cabo Verde and interested in some fun? We from Tud Fish offer daily halfday Fishing & Snorkeling trips. But do you know what makes the halfday trips even more special? You can enjoy the most fresh fish possible on a Tud Fish Beach BBQ. Live like a local!
The trips are interesting for beginners as well as for experienced fishermen. For the snorkeling trips it is necesary to know how to swim. The halfday trips will take place around the beautiful bay of Santa Maria. And even better, our multilingual captain speaks Creolo, Portuguese, Spanish, French, English, Italian and some words of Dutch so everybody is welcome to join!
Tud Fish 


So why is our name Tud Fish? Tud Fish is a combination of the creol expression: "Tud Fixe" meaning "All good" and the main attraction of our daily trips: Fishes. Together it combines as Tud Fish meaning both, 'It's all about fish' and that is 'All Good'!
The Boat Tud Fish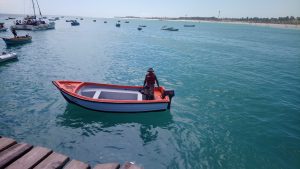 Tud Fish, is a 4,75m fibreglass fishing boat. We can have maximum of 4 fishermen on our boat and a maximum of 8 snorkelers. We got all the permits, licenses and insurance, so you can just relax and enjoy the trip.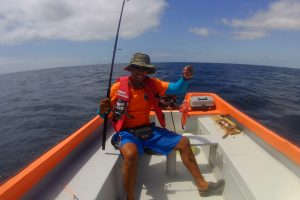 Captain Tud Fish
Captain Tud Fish's real name is Stephen and he is a real cape verdian Salens (which means born and raised in Sal). Stephen loves the ocean and can't live without it. He is an experienced diver, sailorman, fisherman (harpoon & fishing rod) & flyboarder. Because of his wisdom and diverse skills he will bring you to the best locations to get the best out of your Tud Fish experience.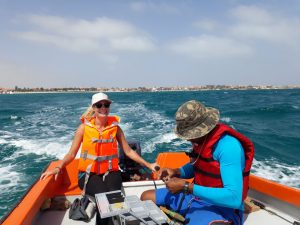 Lady Captain Tud Fish
Else is a Dutch (born and raised in Amsterdam) criolinha branca. She fell in love with her husband and the island and decided in 2015 to live on Sal. As an anthropologist she loves the cape verdean, but also multicultural culture on the streets of Santa Maria. With Tud Fish she hopes to give tourists a little bit of the local experience.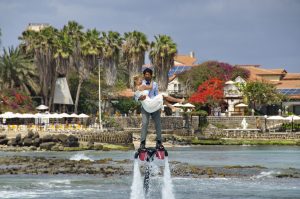 That we both love the ocean tremendously is shown by the fact that our beautiful wedding was on, in and above the ocean… Jetski, catamaran, diving and even fly boarding was part of the ceremony 😀
Did you get interested in our trip and want to book right away? Go to contact & booking to get in contact and see if your planned date and time is still available.
Do you want some more information on the trip? Visit the Tud Fish Experience or check if the prices fit your budget.